Satellite phones are the perfect companion to the people who travel the far corners of the world. The fact is that phones have become invaluable tools in our lives. They allow us to stay connected with one another and utilize the internet as a knowledge base.
However, the sad truth is that there are some areas where phone signals do not reach. These render phones ineffective and practically cut you off from other people. When you are travelling, this is the last thing you want because if emergencies occur (heaven forbid), it is best to always be in a call's reach from civilization.
The good thing though is that satellite phones are here to solve the signal problem. Utilizing satellites in orbit, the effective signal to keep people is connected is increased and empowered. The regions that usually don't have signals now do if satellite phones are used.
One of the best satellite phone companies out there right now is Thuraya. Their satellite networks allow for complete coverage in most – if not all – places in the whole world. They have established roaming agreements in more than 160 countries.
Whether prepaid or postpaid, customers can comfortably communicate anywhere in the world with their almost 400 GSM networks.
The question now is, what are the best Thuraya satellite phone models currently sold in the market? Let's check out what Thuraya has to offer.
Best Thuraya Satellite Phone Models
Thuraya XT-LITE
If you are worried about the value you'll get from any satellite phone model, set your worries aside now. The Thuraya XT-LITE gives you the best value for a satellite phone. It is affordable, compact, and very easy to use.
No matter where you are – whether you are traversing the sea or climbing a mountain – the XT-LITE has you connected to Thuraya's robust satellite network. You won't have to worry about getting a signal for uninterrupted and convenient communication.
With the XT-LITE, you'll be able to call and text when there is no cell phone signal. It comes with an antenna that can be directed and configured in several ways so you can always have that lifeline signal when you call or text.
However, even with the antenna down, you'll be able to receive any notifications that may come your way.
If you use it nonstop, you'll be able to squeeze out a total of 6 hours from its battery. On standby mode though, you can have as much as 80 hours.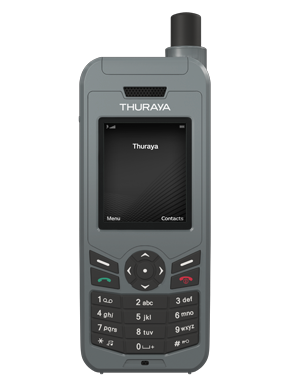 Setting up the XT-LITE is as simple as just ensuring the unit is charged and that a working SIM card is installed. You can select from 12 languages to set your phone to as well.
Other features in the XT-LITE include a calendar, an alarm, speed dialing, world times, and many more.
The XT-LITE comes in at just $449. It is the minimalist's choice to satellite phones, but without losing any essential features and functionalities. It is a great choice for total value.
The only thing missing here is access to mobile data, but this feature is really something for newer more expensive models. For standard satellite phone features, the XT-LITE is it.
Thuraya X5 Touch
Next up on our list is Thuraya's X5 Touch. As the name suggests, it is a satellite phone that is also a smartphone with a touch screen for convenience. More on that in a bit.
In terms of durability, the X5 Touch is truly top of the line. It is in line with the IP67 standard and compliance with MIL 810 G/F. What do these mean? This simply means that this satellite phone can survive being dropped on the ground, being submerged in water for half an hour, and is even protected from dust.
The protection also extends to things like vibrations, shocks, and extreme temperatures. You won't have to worry about keeping this satellite phone protected as it protects itself quite well already.
The HD touchscreen is made up of Gorilla glass and is 5.2 inches. The manufacturers made sure that this glass is usable even if the screen is wet or if you are wearing gloves.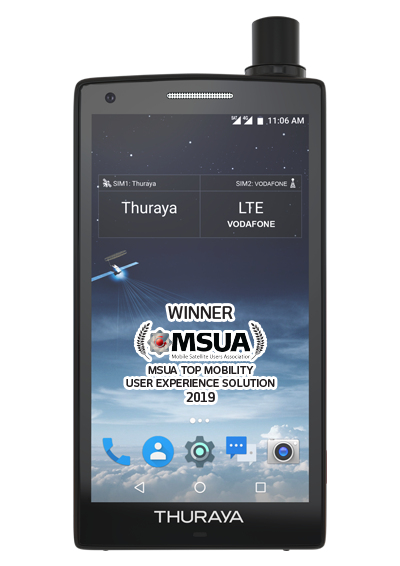 As stated previously, the X5 Touch is both a satellite phone and smartphone. Whether it is a satellite or cellular network, the X5 Touch can use whatever is available wherever in the world.
It has an Android Nougat operating system installed as well as a HD LCD touchscreen. This actually makes it the only satellite smartphone in the market.
It also comes with a USB-C connector similar to smartphones, cameras in the front and back (2 megapixels and 8 megapixels respectively), a built in GPS, and even an SOS button for those emergency situations.
The battery life is also one of the best in the market, as it stays powered in standby mode for a staggering 100 hours.
As you can imagine, the fact that it is also a smartphone makes it a very rare feature in satellite phones. As such, the X5 Touch is quite pricey when compared to other satellite phones in the market. However, with all the included features, the price of $1,295 isn't that big of an issue.
In terms of service, a full year's worth of service comes up to just shy of $350. Voice calls cost $0.99 a minute.
Thuraya XT-PRO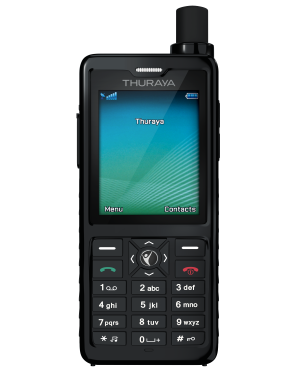 Finally, we have the Thuraya XT-PRO. This satellite phone is one of the most advanced ones in the market today.
For starters, the navigation system is quite configurable. You can choose from GPS, BeiDou, and Glonass. Selecting from these will allow you to configure the accuracy and security of your satellite phone in the region you are in.
In terms of battery life, you have the most utility with the XT-PRO. When talking, you can have a total of 9 hours. The standby time is similar to the X5 Touch with a total of 100 hours.
The XT-PRO was also made with durability in mind. It shares the Gorilla glass that the X5 Touch also has. It is made for tough environments and will stay intact and work wherever you bring it. It is similarly resistant to dust and water.
The display was also made for the outside, as people will easily be able to see the screen even in direct sunlight.
Purchasing the XT-PRO will cost you a cool $999. It is a good mid point between the XT-LITE and the X5 Touch.
Choose your Thuraya Model Now
If you are travelling the world, Thuraya is a great manufacturer for satellite phones. You have great coverage, diverse features, and even the ability to have a satellite phone and smartphone rolled into one.
Whatever your price range is, Thuraya has something for you. Choose the right Thuraya Model for you now and start exploring the world knowing that you'll be safe and sound with a constant connection to the rest of the world.
---