The open world is a sight to behold and experience. Travelling the world is a great way to learn about different cultures, see magnificent sights, and even just have a good time.
Unfortunately though, many corners of the world are not as connected as others. Cell towers are not as prevalent in some parts of the world. This means that cellular phones are rendered useless.
In a time where connection and communication are instantaneous, being caught without a working phone signal can be considered a hindrance. Moreover, the various other uses that a smartphone provides are very useful especially when travelling to far-flung signal-less areas.
There is no reason to panic though, as people who love travelling to these areas can invest in satellite phones.
Don't know much about satellite phones? You can read our entry on Everything You Need To Know About A Satellite Phone for you to know the basics.
Stronger Signal Than Cell Phones
Satellite phones typically have stronger signal areas than cell phones due to the networks that they connect to. Regular cell phones have signals through cell sites built in key positions. Satellite phones on the other hand do not rely on the limited coverage of the cell sites or towers.
Instead, these types of phones connect through other phones via the radio. This is made possible due to satellites in space.
If you will be travelling and you are looking for a satellite phone, one key brand that you should look at is Iridium. They are a premiere satellite communications company that allows communications the world over due to their Iridium Satellite Network. It comprises a total of 66 LEO satellites in orbit.
There are several great Iridium satellite phone models that you can consider for your travels. Let's check the top Iridium satellite phones currently sold in the market.
Top Iridium Satellite Phones
Iridium Extreme PTT
Let's start slow. The first Iridium model we'll be talking about is the Iridium Extreme PTT. While not exactly a satellite phone, the capabilities of the Extreme PTT are still quite useful.
This model is more akin to a walkie talkie than anything. Hence the "PTT" in the name, meaning "Push to Talk". While it seems that walkie talkies are a thing of the past, many organizations and groups are still using this technology.
This model of Iridium phone is great if you have a group of team with you on your travels. Utilizing the PTT technology, you can easily get a hold of anyone on the line and either talk to make decisions in a flash.

This model costs upwards of USD $1,500, and weighs a light 200 grams. The battery life can last up to a massive 30 hours, so you won't have to worry much on the field if you head out with a fully charged Extreme PTT.
The phonebook holds a total of 100 contacts, and apart from talking to them with a presh of the reinforced PTT button, you will also be able to send SMS messages. It also has a loudspeaker installed, a display that works best against glare, and a GPS as well.
Like most of the Iridium models, this one is very durable so you won't have to handle it as if it were a delicate renaissance painting.
Iridium 9555
If you want to find the best value in an Iridium phone, you should look no further than the 9555 model. This model has all the best features all rolled up into one unit.
Strangely enough, the 9555 is the base model of the Iridium satellite phone. However, this is testament to how much Iridium takes their satellite communications business seriously.
As such, the base 9555 model already has everything that a regular satellite phone user would need. It takes into consideration what a regular person would need and focuses on that. This does away with any inflated costs that include unneeded features.
For starters, the phone itself is very small and light. It is easy to bring around to anywhere you travel around the world. This even extends to the antenna, which can easily be put away within the body of the phone.

Apart from phone calls, the 9555 also allows you to send text messages, compose emails, and even surf the internet. Internet access is one thing that most satellite phones do not have.
Other features include a built-in speakerphone, a hands-free earpiece with an integrated microphone, and even a port for USBs.
This model is just shy of USD $1,100 and is a bit heavier at 266 grams. The battery life of a fully charged 9555 lasts up to 4 hours.
In all regards, the Iridium 9555 is a small, compact, and affordable satellite phone that has everything that people or even companies would need.
Iridium 9575 Extreme
Iridium also made a model that improved upon the 9555 model. Thus, if the 9555 is the base model, Iridium's 9575 Extreme is the levelled up version.
This type of satellite phone is best for those who use it in harsh conditions. The "Extreme" in the phone's title isn't just for show though. It is meant to show that these models can survive anywhere you bring them.
These models were made with military grade toughness in mind. This phone can definitely take a beating and still keep ticking.
As mentioned, the 9575 Extreme model shares all the essential features that the 9555 model has too. However, it adds many other features to its list.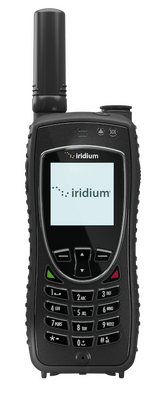 For one is the GPS system of the 9575 Extreme. The 9555 model actually doesn't have a GPS system. However, the 9575 Extreme has one, and it is customizable to boot as well. The built-in tracking system means that companies won't need to worry so much about the safety of their employees or even for loved ones tracking their families and friends.
It also has a very useful one touch SOS button to be used for immediate emergencies.
The protection rating is quite high. Apart from the durability itself, it is also heavily protected against dust, water, humidity, sand, vibrations, and even being dropped.
The speakerphone and microphone are quite resistant to wind. So even if you are in windy parts of the world, your communications will not be hindered or interrupted.
The price for the 9575 Extreme runs up to $1,345. It weighs about 247 grams and has a fully charged battery life of up to 30 hours!
Explore the World with Your Iridium Phone Now
Whether you are heading out into the open world for business or exploring unknown deep corners, Iridium phones are a great must have for your trip.
Iridium's satellite phones can help keep you protected, safe, and connected no matter where you are in the world. Check out the various top Iridium satellite phone models in the market right now and grab one for your travels immediately.
Travel safely.
---